Solentris provides organizations with a complete suite of financial applications and reporting designed to fully integrate with the other Solentris modules. As your users complete tasks such as generating invoices, receiving payments from customers, paying vendors and replenishing inventory, Solentris' Financial system is constantly being updated in real time. Users no longer have to wait to view Financial reports, or generate data into external applications. Finance users also appreciate the fact that all statements and reports support complete drill downs to source entries to ensure that everyone is comfortable with the accuracy of the data being presented.
Accounting:
Solentris' Financial System is designed to grow with your company. Whether your organization is supported by bookkeepers, outside consulting organizations, accounting firms or complete in-house financial departments, Solentris' Financial System can meet your organization's demands. Solentris' financial system is used regularly by organizations with several hundred thousand dollars in annual revenues, to multi-national organizations reporting hundreds of millions.
Accounting Features:
Multi-company capable supporting consolidations.
Function, Department, Element, Business Unit and SBU reporting levels provide unmatched cost-center based reporting capabilities.
Track revenues, payments and costs by customer, by product or by vendor (payments). Easily generate financial statements for each of these special categories.
Reports and displays support complete drill down technology to the original journal entry, and even scanned source documents.
Accountants appreciate the standard financial reporting features, including detailed trial balance, GL and account displays.
Additional support for auto-posting journal entries, sub-ledgers and specific figures on a nightly, weekly or monthly basis (if the organization would rather not post in real-time).
Virtual Manager supports the ability to flag key financial statement lines in the system and easily monitor their status.
Create your own Financial Statements using the Financial Statement Designer.
Supports transfers to popular spreadsheet and PDF applications.
Accounts Receivable: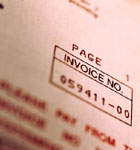 Solentris makes the process of managing your organization's Accounts Receivable balances simplified and clear. Solentris takes the most traditional Accounts Receivable features, including aging details, credit management and payment processing, and enhances it with tools that are designed to monitor and report on the status of your Accounts Receivable activity. The A/R Virtual Manager monitors customer balances vs. credit limits, and reports on customers approaching their thresholds, reports on customers that are nearing payment deadlines and past dues, and also tracks how fast your customers are paying their bills.
Improve communication with customers through the generation of email-ready PDF statements and invoices, not only cuts postage costs, but also makes it easier to provide accounts receivable data to your customers.
Accounts Receivable Features:
The Accounts Receivable Virtual Manager keeps track of invoice activity, past dues, late payments, monitors invoices coming due, customer credit limits and average payment terms.
Multiple levels of customer contact information including references between Bill-to's and Ship-to's.
Accounts Receivable summary status and detail.
Customer order preferences and shipment preference information.
Complete tracking of the order and invoice tasks for all employees that processed the order or invoice.
Upcoming critical dates, including orders and shipments by customer in calendar form.
Quick links to inventory status, customer status, order status, invoice information.
Accounts Payable: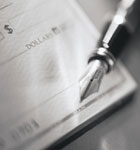 Solentris features a very powerful Accounts Payable system that is ideal for organizations looking to not only pay their bills effectively, but also those that are looking for continuously updated information related to tracking what vendors are owed payments and for what time periods, tracking payment histories, purchase price variances, purchase histories and multiple versions of your Aged Trial Balances. The AP system is also fully integrated with the Purchase Order, Inventory and the Expense modules, meaning that payment processes are reflective of the type of transaction incurred.
Accounts Payable Features:
The Accounts Payable Virtual Manager tracks upcoming bills, inventory receipts due to be paid, top unpaid bills, as well as payment histories.
Inventory receipts automatically create Accounts Payable vouchers for efficient payment.
Vendor reports and outstanding AP status means that your staff can easily monitor your AP requirements.
Integration with the employee Expense module minimizes duplicate data entry.
AP bill payments automatically update General Ledger and Financial Statements.
Reports include A/P Aged Trial Balance, Monthly A/P Distribution, Vendor Review, Outstanding A/P and more.